The intelligent performance upgrade
from the market leader
ABT POWER
SELECT ABT POWER NOW!
STEP 2
ABT CHOOSES THE PERFECT SPECIALIST IN YOUR AREA
Schritt 3
INSTALLATION AT OUR HEADQUARTER OR AT A CAR DEALER IN YOUR AREA
STEP 2
ABT CHOOSES THE PERFECT SPECIALIST IN YOUR AREA
Schritt 3
INSTALLATION AT OUR HEADQUARTER OR AT A CAR DEALER IN YOUR AREA
Our commitment to bring out the best in every engine is part of ABT's family tradition. When it comes to performance upgrades, we're in our element, making us the world's No. 1 for cars from Audi, VW, Seat and Škoda. What's more, thanks to the experience we have acquired through years of professional racing, we know that it isn't only about power, but also durability. In the end, only a combination of the two can ensure true and lasting driving pleasure.
ABT stands for quality and racing feeling. For top performance through high technology. For overwhelming power and incredible stability. And, not least, for the best warranty on the market. It is obvious, that we leave nothing to chance. In our ultramodern development centre in Kempten all engines and technology developments are tested under the toughest conditions - from the best engineers on the ultramodern engine test bench. In contrast to the most competitors the application of the ABT engine control doesn't take place two-dimensionally with a caracteristic, but three-dimensionally with a so-called engine-map, which outlines the engine load and speed.
Real Time Sensor Management
The first generation of engine management optimises the factory-fitted control unit. The "New Generation" of engine management system literally sees the dawning of a new era. The additional high-tech ABT Engine Control unit analyses all performance-relevant data and translates them directly into ABT POWER commands.
The ABT Engine Control (AEC), which acts as the control centre of modern ABT vehicles, is protected by the market leaders Gore-Tex membrane against external influences. This membrane affords permanent water- and windproofness with high breathability and thus guarantees extra longevity and the highest level of protection for the AEC.
What all power upgrades offer
The individual and splash-proof cable harnesses enable problem-free integration of the ABT system in the vehicle infrastructure, including the vehicle-internal communication networks. Thanks to the series central plug, installation can be realised quite simply. Here the competing solutions still often require disconnecting and soldering of the cables which is fraught with errors.
ABT offers their own technical component reports from TÜV Rheinland to provide a problem-free registration of the power upgrade. With this ABT customers can be sure to have a car that is comfortable to law.
INDIVIDUAL ADVICE
You have questions relating to our products or you are looking for an individual consultation from our specialist? We will be happy to be of assistance to you!
CERTIFIED BY TÜV!
Products of ABT Sportsline are designed and manufactured according to the strict quality standard ISO 9001. It hardly needs mentioning that they are also TÜV-certified.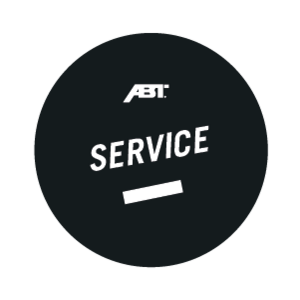 OUR SERVICE
You are planning an ABT conversion or need a workshop appointment? We offer a unique service with a perfect timing. Taking care for your perfect satisfaction, we uphold the long-time pleasure you are experiencing with our products.
From the Racetrack to the road
Top quality thanks to motorsport experience
From the racetrack to the road
ABT is the only tuning company that has been using its decades of very successful motorsport experiences to optimise its engines. Its products are extensively tested on both the Kempten development centres' dynamometer and on public roads.
Find out everything there is to know about "driving pleasure powered by ABT" at our head office in Kempten/Allgäu. Enjoy a fascinating review of over 70 years of racing in the ABT Motorsport Museum, experience the latest ABT cars live and up close, and discover the latest sporty accessories in the ABT Tuning Shop.
We are open for you from Monday to Friday from 8 a.m. to 6 p.m. and on Saturday from 9 a.m. to 1 p.m. in the Johann-Abt-Straße.
The ABT Sportsline development centre is located between the Kaufbeurer and the Johann-Abt-Straße in Kempten. Here our engineers work on the constructions for our brand-new projects. Our spezialists benefit from our years of experience in the motorsport.
We develop vehicle highlights like the ABT RS5-R, the ABT RS6+, the ABT TT RS-R or the ABT Vossen SQ7 at regular intervals.